Stuffed and rolled chicken breasts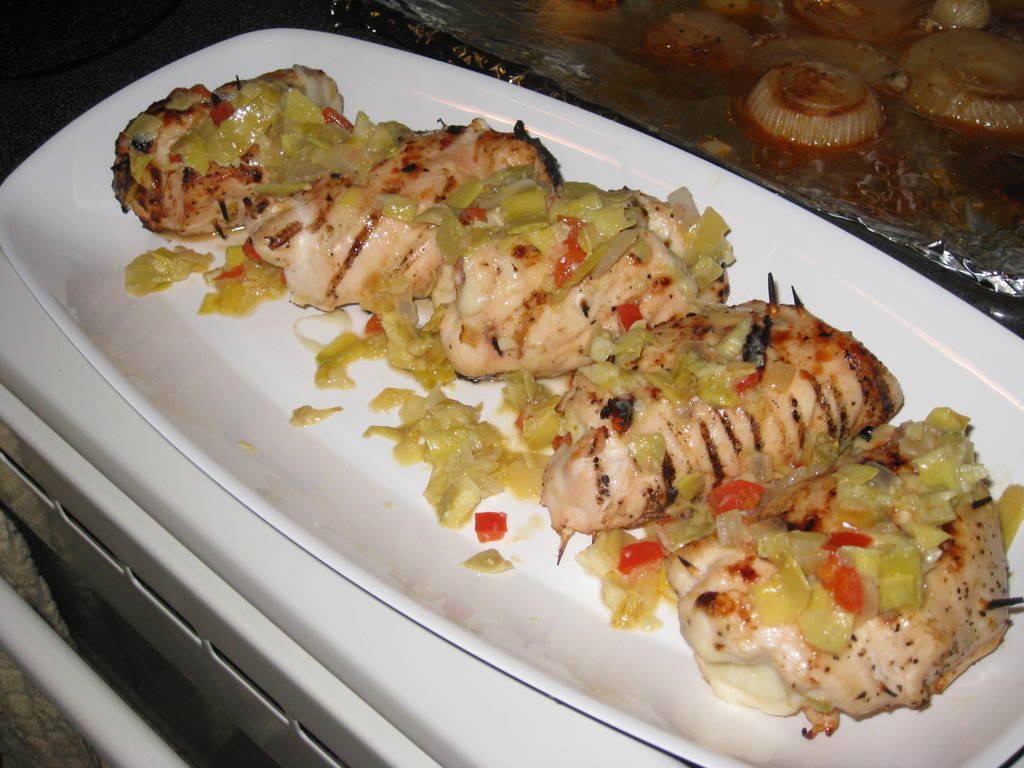 The recipe that I had called to cut a pocket in the chicken breast and stuff it, but the breasts were not large enough ( ha ha ha.. insert your small boob joke here). So I pounded the breasts thin and put the stuffing the middle and rolled it up. I lost some of the stuffing on the grill, but most of it stayed.
4 chicken breasts, pounded thin
5 marinated artichokes, chopped
1/2 red pepper chopped
1/2 onion chopped
1 garlic clove chopped
4 slices of provolone cheese
4 pats of butter
1/2 cup white wine
1/2 cup chicken stock
dash salt
dash pepper
dash oregano
Tooth picks
Saute the red pepper, onion and garlic until soft... about 5-7 minutes. Add the artichokes at the last minute to heat through. Take a slice of provolone cheese and place it on the chicken. Scoop about a tablespoon on the veggie mixture onto the cheese. Roll the piece of chicken up and secure it with toothpicks. I think I used about 3 toothpicks per chicken breast. I would have used kitchen twine if I had any. Repeat 3 more times. Once all of your chicken has been rolled and secured, sprinkle salt, pepper and oregano on the outside of the breasts. You can bake these, but I grilled them over medium heat, about 10 minutes per side (of course this depends on how thin you pounded your chicken).
You have probably noticed by now you have extra veggie mixture. Use the same saute pan and heat up the butter. Once it is melted add the wine to the pan and cook until bubbly. After a few minutes add the left over veggies and the chicken stock. Cook over medium heat until reduced. This will be a sauce to pour over your chicken once you take it off of the grill!
Enjoy!