Some new places we tried....
We have been venturing out to try out new places in Austin. On this particular day we were looking for a good place to get something to eat, have a drinky poo and see if it would be a good place watch a sporting event. The first place we went to was Third Base. This place has a TON of Tv's. There are also plenty of TV's and seating outside (covered with umbrellas). There were a decent amount of people there watching college football, and I imagine that it gets packed when UT plays (or any other Texas team). We both ordered sandwiches, and then shared a half with each other. Jim's sandwich was better than mine... he ordered a turkey club and I ordered ham and cheese. Mine was good, but just your typical sandwich. The french frys were tasty. There was a parking garage behind Third Base (at no charge) so they have plenty of parking for being downtown! We'll be back to catch a game or two!

Third Base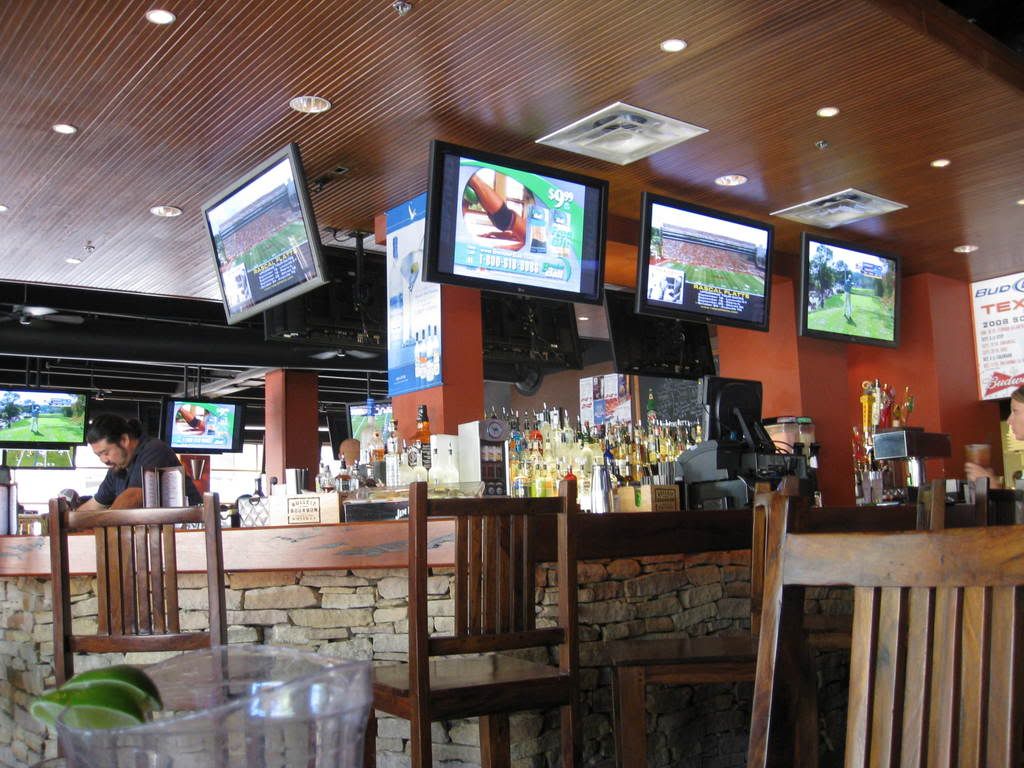 Our second stop was to a patio bar/restaurant called Cuatros. This was our second time to visit, the first time was for dinner (more below on that). I fell in love with this place as soon as I saw it. They have indoor and outdoor seating, and when it cools down a bit, I plan on using their patio! They also had TV's outside, and one freaking huge TV (well, it is 16 TV's put together to be one ginormous TV). The first time we went we ordered a few items: bacon wrapped shrimp, pulled pork taco's and queso and chips. All food was very good and decent priced. They had quite a few other items on the menu that I wanted to try, so we will be back! They also have drink specials every day but Saturday.

This is the West Campus Cooler.... I highly suggest it! Bacardi O, Razzmitaz (spelling is totally wrong for that), sweet and sour, cranberry juice, and a little soda water. Mom- even you would like this!