Please Pass the Pesto!!!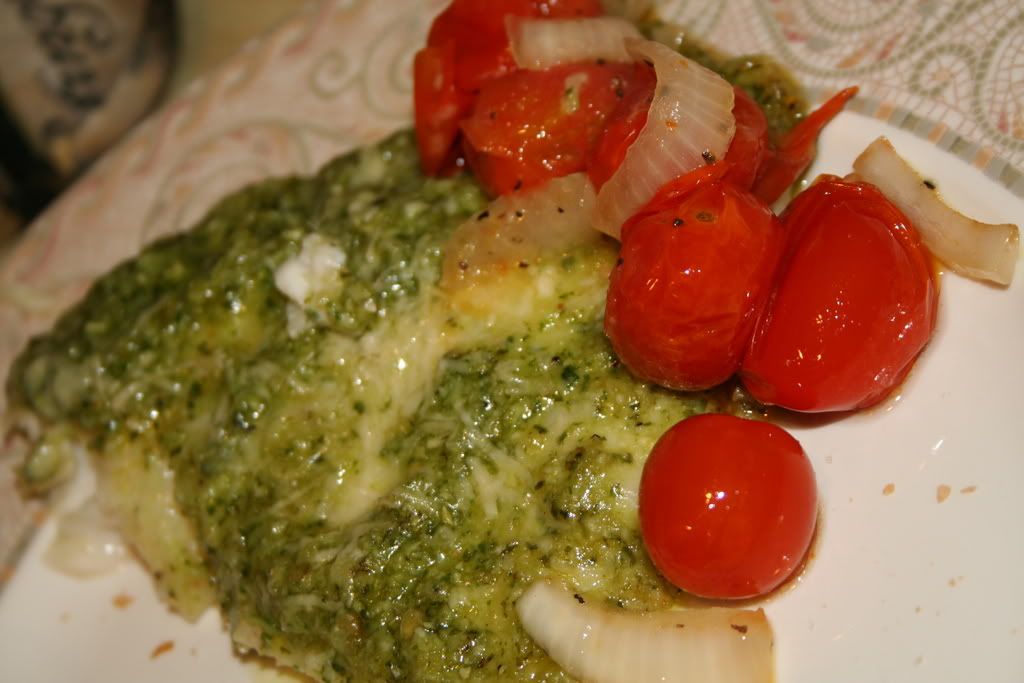 I saw a recipe the other day and I knew we had to try it. I am always looking for new ways to cook fish and this recipe is going to be a keeper. Tilapia is a mild fish so the pesto flavor took over, which for me is a good thing. I will look forward to making this again. I enjoyed the tomatoes, but the hubby didn't care for them. I'll try to bake them with other flavors to see if Jim likes them any better. Those little suckers squirted quite a bit of juice when you stabbed them with a fork. :) If you don't like fish, then I bet this recipe will be just as good with chicken!!
Pesto Fish with roasted tomatoes
Ingredients:
2 handfuls grape tomatoes
4 cloves garlic (peeled and smashed)
1/2 onion, chopped
2 teaspoons olive oil
salt and pepper to taste
1 lemon (juice and zest)
2 tablespoons
pesto
(See below)
2 tilapia fillets (or any white fish... I used tilapia for me and catfish for Jim)
salt and pepper to taste
Directions:1. Toss the tomatoes, onions and garlic in the olive oil, salt and pepper.
2. Roast in a preheated 425F oven for 10 minutes.
3. Mix the lemon juice into the pesto.
4. Season the fish with salt and pepper.
5. Spread the pesto onto the fish (I also put some shredded Parmesan cheese on top of the pesto).
6. Bake the chicken until it is white and flaky, about 10 minutes.

7. Serve with tomatoes


Pesto

Ingredients:
1 handful basil
1 clove garlic (chopped)
2 tablespoon pine nuts (toasted)
4 tablespoons grated parmigiano-reggiano
3 tablespoons olive oil
salt and pepper to taste
Directions:1. Place everything into a food processor and blend.