Drunken Beans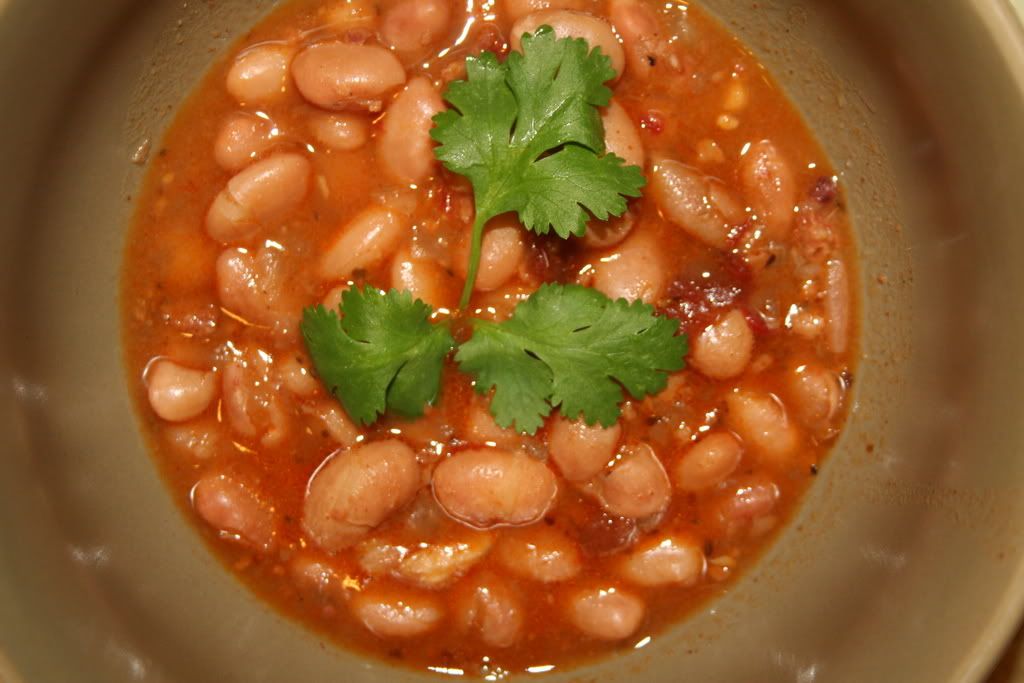 Jim is a big fan of beans, and I am not. Not at all. But I came across this recipe and thought that it sounded good for those people that like beans. Beans take a long time to make, so make sure you leave yourself enough time while making these. My taste tester, Jim, said that the beans were very good. They have a good flavor and a mild heat (which if you are a puss like me, that means it was spicy). I did put slightly more of the chipotle peppers in the beans since I know Jim likes spicy foods. I asked about the chorizo and he said that he didn't even know that it was in there. I don't know if there are different types of chorizo but the kind that I bought was in a casing and I squeezed it out of the casing into the pan (see the picture below along with my crude comments :). So if you are a bean fan, then Jim suggests that you try these beans!! Oh, and one more note, this recipe makes a lot of beans!
8 ounces chorizo sausage, cut into chunks
(my choizo wasn't really hard enough to cut into chunks, it was more mushy)
1 onion, chopped
4 garlic cloves, chopped
1 teaspoon dried oregano
1 teaspoon chili powder
1 pound pinto beans, soaked overnight and drained
( I only soaked mine for 3 hours, I was impatient. From what I understand, soaking the beans over night will help the beans cook more evenly)
1(12 ounce) bottle of dark Mexican beer
(I used a Tecate Light, so not sure what the difference would have been if I used a dark beer)
5 cups water
1 tablespoon brown sugar
2 teaspoons minced canned chipotle chilies in adobo sauce
Salt
2 tablespoons chopped fresh cilantro
1 tablespoon lime juice
1. Cook sausage in dutch oven over medium heat until browned, about 8 minutes: transfer to paper towel lined plate. Cook onion in sausage fat until softened., about 5 minutes. stir in garlic, oregano, and chili powder and cook until fragrant, about 30 seconds. Add beans, beer and water and bring to a simmer. Reduce heat to medium low, cover and cook for about an hour, when the beans are soft.
2. Stir in sugar, chipotle and 1 teaspoon salt. Continue to simmer, uncovered, until beans are completely tender and sauce is slightly thickened, about 50 minutes. Return chorizo to pan and simmer until chorizo is tender. (If mixture gets to thick, add some water). Stir in cilantro and lime juice and season with salt. Serve. Beans can be refrigerated in an airtight container for 4 days.
soaking beans
Onions and garlic
Chorizo... there were a few brands to choose from, I had no clue so I just picked one
So I am going to assume that you will know what my first thought was when I looked at the chorizo in the pan.... okay, if you don't know then I'll tell you...... Doodie. It looks like a big turd sitting in my pan. However, it smelled fantastic while it was cooking. I have only had choirzo once, and it was mixed with scrambled eggs.