Out of the Norm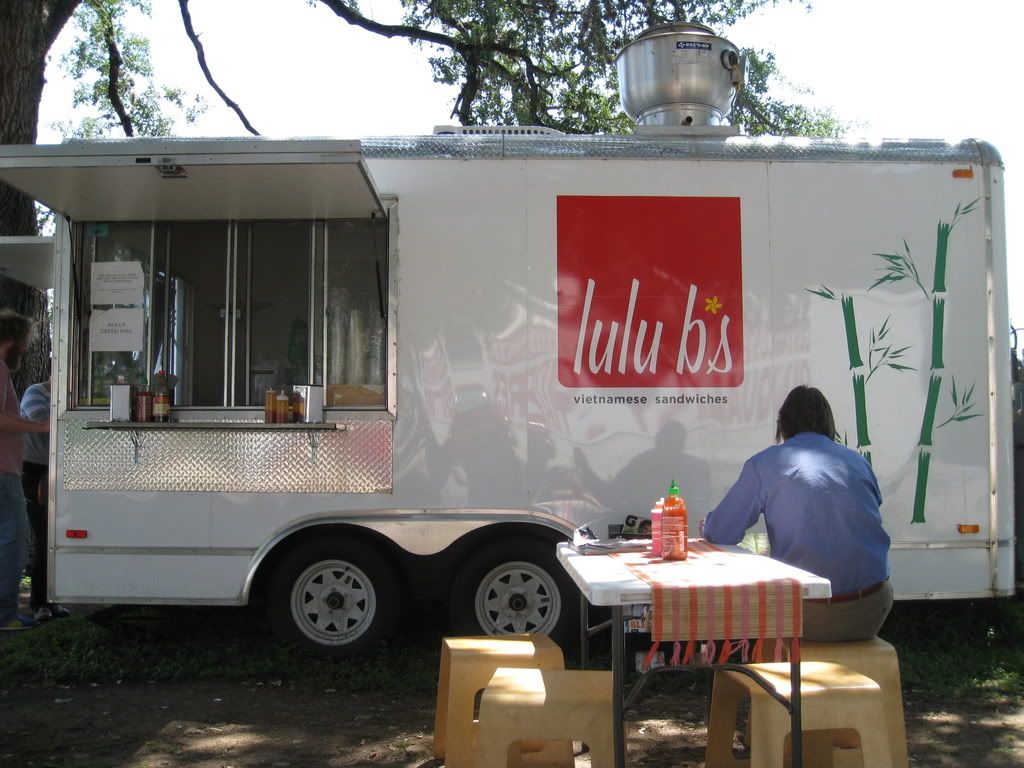 I have been addicted to yelp.com. It is a website where consumers report back on different type of services and places. The reviews are hilarious, and you can easily spend an hour poking around. I found my fabulous new hair dresser (more on him later) but I also found a new place for lunch.
I am a novice when it somes to Vietnamese food. I may have had it once or twice before but because of the raving reviews of Lulu B's I thought I would check it out. I convinced a few co-workers to eat with me. Lulu B's is a trailer under a wonderful shade tree, which allowed for a lunch outside.
I ordered the barbecue chicken sandwich and the spring rolls. The chicken sandwich had toppings that I was not used to, and I might not even be right when I tell you what is on there. I believe it had cilantro, some type of marinated carrot, cucumbers, and daikon (I think this is a type of radish). The sandwich was tasty, but I did had to add a little hot sauce to give it a kick. The spring rolls were good, but I have to say that I am a bigger fan of the crunchy shell with the crisp veggies on the inside. A friend ordered the lemongrass vermicelli bowl, and she really enjoyed it. I tried a bite or two, and I agree. I think I'll go with the vermicelli bowl next time. They also have a sweetened Vietnamese coffee that I want to try!
I will be back to enjoy more food at Lulu B's!!!
Spring Bowls